Bennett's first birthday was yesterday, and I wrote up his last monthly blog post.
If you didn't read it, you can find it
HERE
.
We had a super fun day, that I will elaborate on in this post.
Also, be prepared for at least one more birthday post for Bennett.
His big party is on Sunday, so there will be lots of other pictures coming atcha!
1 | Bennett's birthday started off with me perusing through old pictures in the wee hours of the morning.
I watched his birth video, and looked and endless pictures of his smooshy face and sat in awe of his nose roll.
I was also reminded of what my pregnant self looked like, and missed being pregnant for like a hot second.
2 | Beckam and I were the first ones awake, so we proceeded to blow up a bunch of balloons.
We woke up Brody and Ryan and then went and got the birthday boy together and filled his crib with balloons.
He was confused. :)
But he was also very happy.
3 | Birthday breakfasts around these parts consist of pancakes covered in fruit and a candle.
Bennett really could care less about the candle, and only wanted to eat the bananas.
4 | We were wanted to go to the zoo, however it didn't seem like the zoo in 25 degree weather would be all that fun.
Thank goodness for my farmer, because he came up with a way better plan!
Bennett LOVES water, so we headed to some hot springs not too far from the farm.
He also apparently really loves to eat snow out of the air, so he was a very happy one year old.
If you have never gone to a hot springs in the snow, your life isn't complete.
It was so fun, and the boys played hard for a couple of hours.
Bennett also drank a crap ton of water.
5 | We came home in time to whip up some dinner and chow down with special guests Grandma and Papa.
I had made some sugar free/dairy free cupcakes the night before, and then made some full of sugar/dairy frosting to go on top.
I don't know.
BUT, they were delicious.
Not like Bennett would know though...
No clue what pissed him off, but after a few minutes of watching everyone else eating the cupcakes, he gave it a try.
And he never turned back.
We had a fun filled day with our birthday boy, and I can't believe that my baby is a ONE year old!!
And now, I am going to try to ignore that fact while planning for the next big shindig.
SO go ahead and link up below, then grab the html from this fancy button, and put it on your post. :)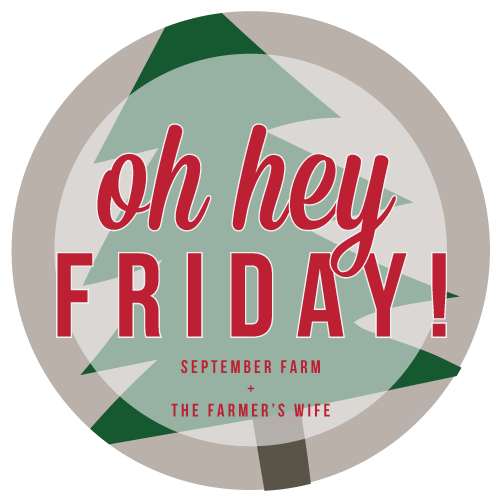 Have a great weekend friends.