Things are getting cray cray up in here.
And I don't every say cray cray.
A few brief tidbits about my week...
1 | giveaway
Did you guys see the giveaway going on right now?
$50 to PinkBlush.
You can read about it
HERE
.
But free things are always a plus.
And this dress is awesome.
2 | hair
I went and chopped my hair short again.
It was getting to that awkward stage where you either decide to grow it out, or chop it off.
I clearly went with chop.
All I have to share with you is this awesome selfie in my car.
3 | beets
Today is the day that we have all been waiting for.
We are going to finish digging sugar beets.
And by we, I obviously don't mean me.
My farmer has been working so SO hard, and I am glad that he won't have the stress of that hanging over him.
The boys, on the other hand, are going to be so sad that beets are finished.
BUT, now it's time for corn to be combined.
4 | christmas
I know that it isn't even Thanksgiving, but I put up a crapload of Christmas lights this week.
It is getting colder by the day, and my farmer has been so busy, so I decided to conquer it solo.
Well... solo with a couple of miniature helpers.
Only one of which is really any help at all.
It is looking quite festive here though, and I LOVE IT!
5 | vacation
We are leaving bright and early tomorrow morning and driving to California for a week of fun with family and friends.
I'll try to keep up with
Instagram
.
But, you can guarantee I won't be blogging.
And neither should you.
Oh hey, Friday
is off for next week, so we will see you back in two weeks!
You can still link up this week though!
Grab that HTML and go put it on your blog.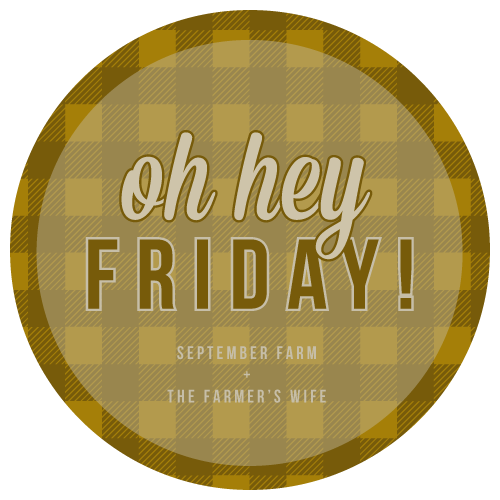 Have a great Thanksgiving friends!
If you are reading this, I am thankful for YOU! :)