I'm just going to go ahead and break the rules for the whole "write about five things" today, because I seem to only blog on Friday lately... and I need to write about my trip down to California a couple of weeks ago before I forget about it completely.
My bestest friend from childhood, and also my maid of honor at my wedding, just got married!!
I wouldn't have missed the occasion for anything.
SO, I packed up my trusty side-kick and we flew on down to Cali.
He slept the entire flight, and woke up ready to party!
And then a homemade apple sauce party commenced.
Maggie's wedding!!
I couldn't help by tear up when she walked down the aisle!
So happy that she has found such an amazing man.
Bennett insisted on happy squealing through most of the ceremony, so I took him off to the side and unfortunately missed hearing it all.
But, the deed was done, and it was beautiful.
The wedding was probably one of my favorites of all time.
Great food, great company, gorgeous venue, etc.
Here are a few photos of the event...
(dancing with her dad)
(Maggie's little brother Matt... basically like my little brother)
But one of the best.
I loved thinking back on childhood and remembering some of the best memories!
Maggie and I used to spend so much time together.
I remember doing weekend sleepovers, and then when we got home, we'd call each other on the phone and chat forever on our cool colored cordless phones.
We would wear close to matching overalls (with one strap down) on the first day of school, and my mom took pictures.
We would call the local radio station over, and over, and OVER again until we could get through to request a song. We would record endless mix tapes from the radio!
We would pretend to be cheerleaders in the back of my dads pickup truck on my driveway and do countless cheers. We even dressed as cheerleaders for halloween. And when we finally got old enough, we because
real
cheerleaders and practiced our cheers FOREVER.
We learned to roller skate together.
We took care of lots of litters of puppies together.
We would go through Sears catalogs and circle the things that we would want to buy, and then use calculators to add up the items... haha, if only we had the millions of dollars to purchase it all.
Countless games of MASH. And gin.
Once, when we were older, we even got asked to be in a commercial for a local-ish furniture store. We saw it on TV once, and thought it was
the coolest
!! Which it really was.
We would spend a part of every single Christmas Day with each other as we exchanged gifts and saw all of the new loot that arrived. Although Matt would always already know what everyone was getting because he inevitably ALWAYS found the present stashes.
Speaking of Matt, we once dressed him up like a girl and took a roll full of photos of him. We loved it! But then, we found out that he took the roll and pulled it ALL out, exposing the film and ruining it. He must've known from the young age of 7 that he was going to be in show business one day. (He is a stunt double/actor/etc. now, and is actually a pretty big deal.)
Maggie and I (and our brothers) spent countless hours together waiting for our mom's to return from Costco with a pickup full of food and goodies for us.
As we got older, and I was in College, I was lucky enough to come home in the summer and Maggie and her boyfriend lived just two doors down. I would go over for dinner, be a third wheel on almost all of their dates, and just hang out for hours.
Basically, Maggie is as good as they come.
Nearly all of my memories from age 5-10 include her.
She has taught me how to enjoy good food and music, that it's ok to have a good cry when you see someone you've missed, and how to be joyful regardless of the circumstances.
A lifelong bestie. Even if we don't see each other
nearly
as much as we might like to.
Do
you
have a lifelong bestie!!??
Tell me your favorite childhood memory with them!
And then, LINK UP! Grab that HTML and go put it on your blog.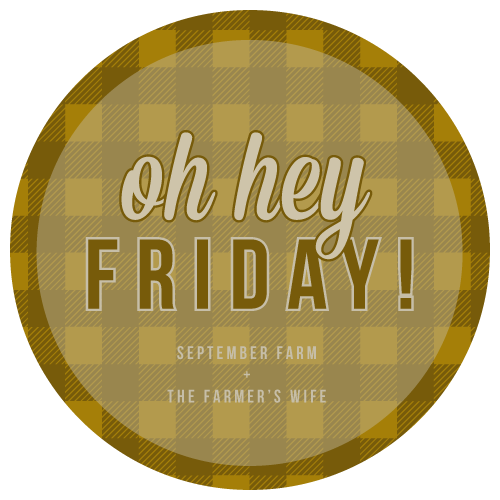 Have a great weekend friends.
Our annual harvest party is Sunday, and I've got 100+ potatoes to wash, oil and foil.
I also have a massive pot of chili to make.
Follow along on IG HERE for more on that. :)
ALSO, Bennett is turning 10 months old on Saturday, and I might need someone to hold my while I cry.
Save
Save