1 | first things first
Do you remember all of that help that you guys gave me regarding family pictures!?
Well, here is the fruits of your labor...
I just got some sneak peeks, and can't wait to bombard this blog with many more of these beauts!
2 | new car
I got a new (to me) car (SUV) yesterday!
I have loved my Ford Explorer, but it has been getting increasingly tighter with our growing boys.
A good opportunity came yesterday, and we traded it off for a Yukon XL.
It is pearly white with glorious leather and I am in love.
Also, it was probably the fastest automobile purchase ever.
Turns out that taking a baby to buy a vehicle might not sound like a good idea, but they get you in and out in a flash!
While taking a test drive, and having Bennett screaming in the backseat, the salesman informed me that he was an empty-nester, and he was really enjoying it. Ha!
3 | pumpkin patch
We recently spent an afternoon at the corn maze/pumpkin patch that is right down the road from us.
The boys absolutely love it there.
AND we farm some of the owners ground, so he lets us go whenever.
We like to go when they are closed.
And enjoy the whole place to ourselves...
4 | harvest party
I will attempt a separate post for this years harvest party.
It was a success though!
The perfect weather, the perfect company and another perfect bounce house.
I've said it before... never have a party without a bounce house!
We also had about 50 left over baked potatoes.
Any helpful tips on what to do with them?
I am going to make a potato and corn chowder today... that might use a few up.
5 | bennett
Did you catch Bennett's 10 month old
blog post
?
And that teddy bear is shrinking awfully fast too.
Cheers to a fantastic Friday friends!
And now, LINK UP! Grab that HTML and go put it on your blog.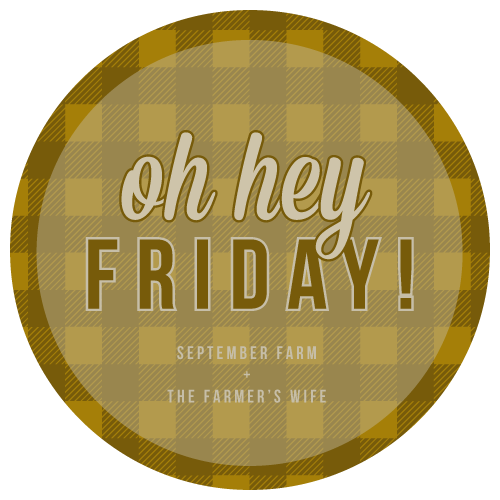 xoxo
Save
Save