I'm not sure if you noticed or not, but I actually blogged a couple of times this week.
Not sure what got into me!
You may also notice, that we have a fun little fall
oh hey, friday
button for you all!
So, before I go any further, if you are here to link up grab the code below the button and add it into your html on your blog post.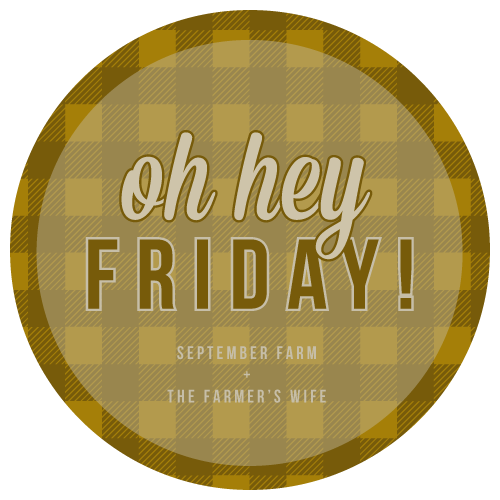 Now, moving on to my five.
1 | cali
I am leaving this afternoon with my littlest man and heading to California for a couple of days.
My childhood bestie is getting hitched, and it is going to be an awesome whirlwind weekend with friends and family.
2 | family photos
I have just over one week until we are getting our family photos taken.
Does anyone else get anxious about getting their pics taken?
What am I going to wear?
What are my kids going to wear?
How do we look good together but not too matchy-match?
How am I going to hide my double chin in every picture?
I am still working on all of the above, but I hope I have it figured out in a week.
I welcome any and all pointers.
3 | scar face
If you follow me on Instagram, you may have noticed that my sweet Beckam has a big ol' slash down his precious face.
He has had a rough week, for sure!
And all at the hand of his big brother.
Let's just all hope that there isn't a trip to the hospital while I am away this weekend.
4 | school room
Our school room is nearly complete.
I will do a full blog post soon, but here is a little sneak peek.
5 | bennett
It is currently midnight and Bennett is on my lap squealing, refusing to fall back asleep.
It is a good thing he's cute.
Have a great weekend friends!
Happy Fall. :)