You guys... I have every intention of being a good blogger.
And I certainly have enough material to write about.
I just... don't. have. time.
Exhibit A.
It is 1:00 am and I am sitting here in the dark of my house writing this post.
Why? You might ask.
I have been out in the office, putting journal entries into our Quickbooks.
Also... reconciling, which I secretly love.
And I am doing this in the very late hours because that is when the children sleep.
Children and reconciling don't mix.
Enough about that though.
Since I'm here, how about a little update?
1 | Bennett
I took Bennett to his 9 month check up yesterday.
We all know this kid is big and healthy, but the doctor confirmed it.
Mr. 95th percentile!
As glad as I am that he is doing great in the growth department, it's kind of sad that my last baby has to be the most monstrous.
It appears that he let this news go to his head.
After the appointment I took his picture, and this was HIS choice pose.
Does he think he's posing for senior pictures already??
2 | Beckam
Oh, this sweet child of mine.
My cuddle guy.
Gosh I love him.
Lately, like always, he has been enjoying playing/laying in any and all dirt/mud he can find.
I am having him play outside as much as possible since the cool weather has come on with a vengeance.
I am already dreading winter when I can't kick them out to play for hours at a time.
3 | Brody
I have been absolutely loving the time I get with Brody when I homeschool him.
I am trying to get him to learn Spanish.
Which of course means that I am learning Spanish.
Those 2 years I took in high school are a distant memory now.
So far he can ask me my name and see how I'm doing.
And he knows water, red and friend.
We are off to a good start.
4 | HELP
This is my last harvest of the year.
We went through SO many peaches and nectarines, and now I am onto PEARS.
I have 5 huge sacks full.
Any favorite recipes you have that I need to know about!?
5 | HELP AGAIN
I am going to a wedding next weekend and I have yet to purchase a dress to wear.
Honestly I haven't even looked, and that is bad.
So, I need your help...
Best place to look?
Do you have a dress you have and love, that I should also have and love?
Send me some links friends!!!
Ok. I'm off.
Grab this html, put it on your post, and then head back here to link up at the bottom!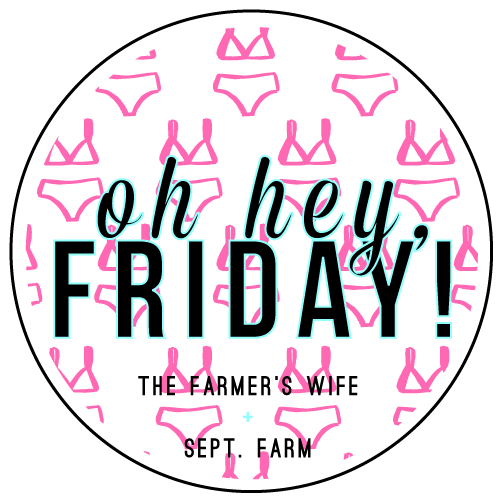 Have a fabulous weekend friends!
xoxo