We just got home from a fun filled road trip with our gang of children.
I will do another post or two about the adventures we went on, but today I am going to share some travel tips, because you know... it's all still so fresh in my head.
SO, if you are planning a trip with children, this is how you will need to proceed:
1 | motorhome
Tip number one.
If you are traveling for more than 3 hours you MUST drive a motorhome.
No exceptions.
When you have three children, it is inevitable that one of them will always need to go to the bathroom.
Other bonuses... readily available kitchenette for all sorts of treats, easy and comfortable locations to nurse the baby, and no suitcases needed.
2 | in route activities
Tip number two.
Be prepared and get some activities for the kids to do while in route.
iPads are always great... download a new movie or two, get some educational games... done!
We also took along the license plate game... print off a sheet of paper with a picture of each states license plate on it and attach it to a clipboard. Cross off the plate when you see it.
Coloring activities are also great... Crayola has those mess free markers and corresponding papers that are money! Mess free is my love language.
3 | destination activities
Tip number three.
Be prepared and get some activities lined up for when you get to your destination.
We looked online and booked a couple of guided activities that we knew the boys would enjoy.
It kept us organized and on a schedule, and we wasted very little time thinking of what we were going to do next.
4 | toys
Tip number four.
Bring some toys from home.
The boys LOVED our planned activities, but they also had a blast during the downtime.
We packed up some of their favorite outdoor tractors/trucks and took them with us.
These got played with at every camp site, at a beach, etc.
I am so glad that we threw these in at the last minute, because they got used often.
5 | relax
Tip number five.
Take a chill pill.
I found myself getting after the boys for being so rambunctious on an occasion or two.
They did need to calm down a bit, but so did I.
These boys were just so beyond excited about the adventures we were on, they could hardly contain themselves.
It was nice to watch our trip through their eyes and have a super fun family filled vacation.
NOW, link up!!
THEN, go borrow your inlaws motorhome and take a road trip.
It's worth it!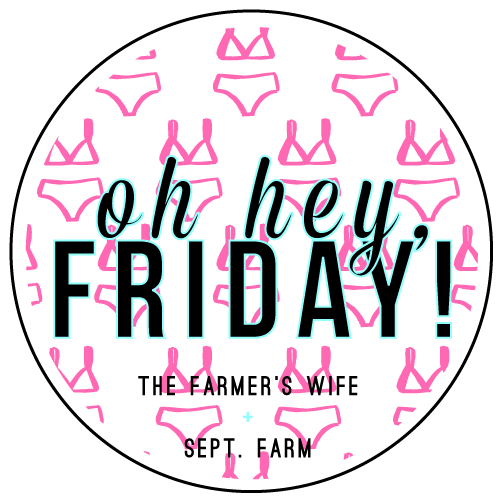 Have a fabulous LONG weekend friends!