Brody started Kindergarten this week.
At home.
I am homeschooling.
And it is slightly terrifying... because, you know, I have no one else to blame if he doesn't know something.
But, so far so good.
One of the extra curricular things I am teaching him is photography.
I am letting him use my canon rebel with a fixed lense and he has never been more excited.
I have taught him a little bit about shooting in manual, but it turns out that he likes "flash mode".
Oh well.
He went with Ryan the other afternoon, and I had him take the camera to document the trip.
We now have dozens of pictures of houses in the neighboring town, along with any piece of equipment that he saw.
My favorites however are the ones that he took at home though. Just some natural occurrences...
1 | my farmer
On a business call, in his dirty farm hat.
2 | beckam
Following Brody's photography instructions. "Beckam, give yourself a hammer nose!"
3 | giggles
Brody was so excited that he caught a picture of Bennett smiling.
4 | typical
He was probably so excited to get him smiling in the prior picture because this is how he normally is. Trying to wiggle out of my arms while I go to answer the phone. #independent
5 | angles
This one might be my favorite.
Not because it is the most symmetrical.
Or the fact that it shows how much Bennett loves me - although that is awesome too.
But because he cropped out my double chin.
Bless him.
SO, that's what we are up to. :)
Grab this html, put it on your post, and then head back here to link up at the bottom!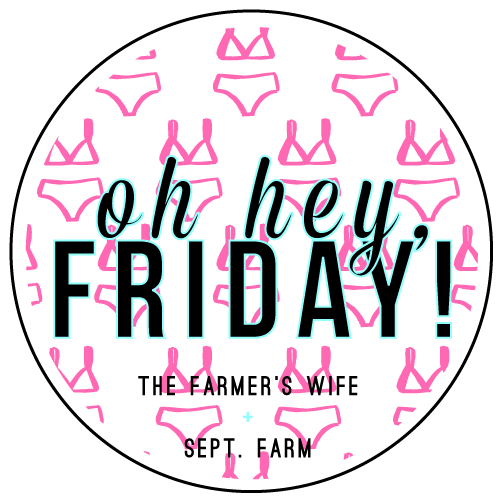 Have a fabulous weekend friends!