We got family pictures done two years ago...
And it is time to get more outdoor photos done, especially since we have another child.
Our family pictures are in just two days, and I need YOUR help!!
1 | ink tag
First and foremost, I ordered a shirt for Brody to wear.
It is super cute.
BUT it came with an ink tag still on it!
It's not like I can just easily run it to the store to take off, and pictures are in two days.
Who knows how to get those off without ruining the shirt???
I promise I bought it, and didn't shoplift it. :)
2 | makeup
I want to look pretty for these pictures.
But I don't want to look like a clown either, ya know?
Do any of you know of any awesome makeup tutorials that will teach me how to look put together in just a couple of minutes?
I mean... I guess I could spend more than just a couple of minutes too.
Give me all of your pointers!!!
3 | hair
Really, I just need someone else to come and curl my hair for me.
But I don't exactly have any neighbors.
Every time I curl my own hair it never ever looks as good as when I leave the salon.
Help!! Give me all of your knowledge.
4 | cold remedy
My boys were sick.
And then they were well.
And now they are sick again.
I am trying really hard to not get sick.
What are the best cold fighters you know of?
I'll do anything really, because getting sick isn't much of an option.
And I don't think that snot running down my face for family pictures is going to look great.
5 | smiles
Lastly, how do I get all of my children AND husband to cooperate?
I'm pretty sure bribery is going to be key.
BUT Bennett doesn't understand that.
I think we may be going more towards the lifestyle shoot, so smiles
at
the camera won't have to be mandatory.
Thanks in advance for all of your help!
Hopefully there will be sneak peeks sooner rather than later. :)
Now, LINK UP! Grab that HTML and go put it on your blog.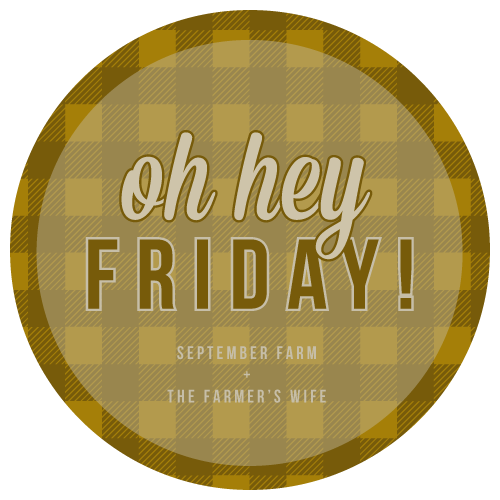 Have a great weekend.
Save
Save