I'm not entirely sure how the weeks keep going by faster and faster.
But they do.
And I'm a little bit mad about it.
We did do a lot of fun things this week though, and that I'm not mad about.
1 | ice cream social
I'm not really good at a lot of things.
But you know what I am good at?
Putting together a party in a few days.
Planning more than 4 days in advance... I don't have time for that.
Sunday we were in charge of a church social at our house.
And it revolved around ice cream... homemade ice cream.
I made a chocolate one and a peach.
There was also a strawberry and vanilla.
And a whole lot of toppings.
Along with great company.
Total success.
2 | lemonade stand
I have been wanting to set up a lemonade stand for the boys.
And since they are finally finished with daily swimming lessons, the timing was perfect.
They were so excited about it!
We made cookies and lemonade and set up the table with some homemade jam too.
You see we live on a highway.
A highway where people generally drive about 70 mph.
So a little lemonade stand by our fence would get overlooked quite easily.
After we made some big signs on plywood, I drove them down a half mile on each side of our house in hopes of getting more traffic for these cute little lemonade sellers.
For the first hour or so they were very aggressive about getting customers.
And they were very accommodating to their customers too.
It was the absolute cutest.
My husband, in-laws, and all of our employees got a bunch of lemonade and cookies.
And they contributed 95% of the boys' profit.
By the end of the day, we spent a majority of our time without anyone stopping, but clearly we still enjoyed ourselves...
3 | playdate
Wednesday my husband's cousin's wife (that's not confusing or anything) and her son came down to the farm for the day.
I somehow managed to not take one single picture.
Good thing Sarah came through for me!! :)
Hallelujah!
4 | peaches
I've made countless cobblers, ice cream, about 30 pints of jam, grilled them, put them on salads, and frozen a few gallons worth.
AND there are still more on the tree.
Oh, and we have given away A LOT.
I can't believe how many we have had.
Next pears and nectarines... any good ideas what to do with them??
5 | homeschool
We are nearing the start of homeschool here.
And my hopes and dreams of building a special school house have not come to fruition.
Because... budget.
So, we are going to be combining homeschool with our farm office in and outer building on our property.
I spent many hours today cleaning and trying to clear out the things that we don't
need
in there for the business side of things.
Now I am going to do a little bit of redesign to make it feel more fun and school-like instead of a farm office.
Stay tuned for a reveal on that in the next month or so.
SO, that was my week.
What did you do this week!??
Tell me about it.
And then , link up!
Grab this html, put it on your post, and then head back here to link up at the bottom!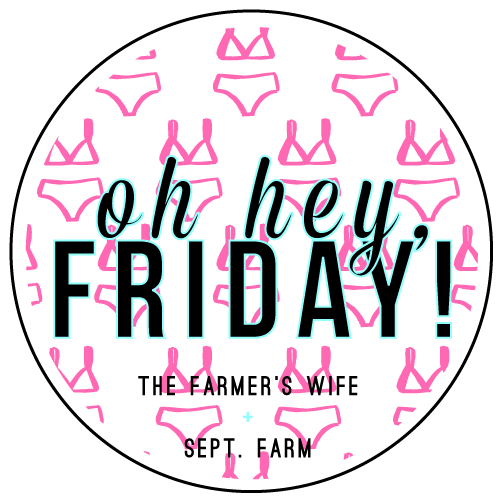 Have a fabulous weekend friends!