I literally have my jammies on, and I was in bed... until I realized I had to blog.
Because, you know, when you basically don't blog anymore, you forget.
AND because, this just happened to be the fastest week of ALL time...
1 | teeth
Bennett finally got some teeth.
And I only say
finally
because it seems like he's been teething for an eternity.
Not because I'm excited about him biting my nipple.
2 | milestones
And while we are discussing milestones, it should also be noted that Bennett can go from laying to sitting all by himself.
SO this is how I am greeted when I go into his room:
3 | cousins
All last week we had family in town.
The boys were completely smitten to have their cousins here to play.
And I was completely smitten that I didn't have to break up any fights between them.
Bennett was getting a little too rough with his baby cousin... who also happens to be the only girl in the bunch.
From the looks of it though, she will be able to handle her own soon, based purely on that stink eye.
4 | help
You guys!!
I have so. many. peaches.
And this year we have hundreds.
I had some great ideas on IG as to what to do with them.
But now I just need some extra hands and hours in my life.
So far, I've made a peach cobbler.
And that only used like 10 peaches.
Any more great ideas for me!?
5 | real life
Lastly, I'm just going to leave you this picture:
Wild, happy, half-naked boys.
Messy rooms.
Lots of diapers.
And lots of love.
I'm sure there will be a lot more of that this weekend.
Cheers to Friday.
And now, link up!
Grab this html, put it on your post, and then head back here to link up at the bottom!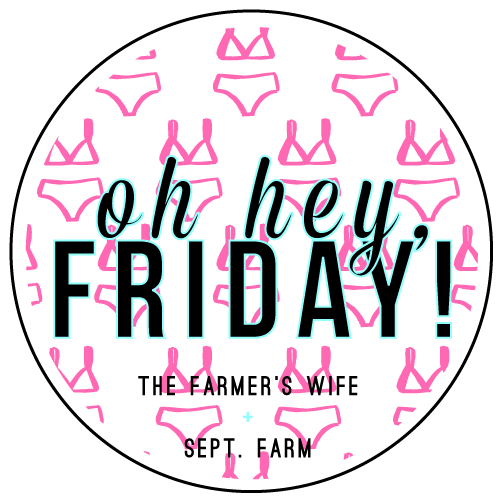 Happy weekend, friends.