Fri-yay!
Bring on the weekend, and the full day that we get with our farmer.
He has been so busy lately, so we really enjoy that day.
We just can't get enough of him really.
What have you guys been up to this week?
Tell me all about it.
Go ahead and grab this html, put it on your post, and then head back here to link up at the bottom!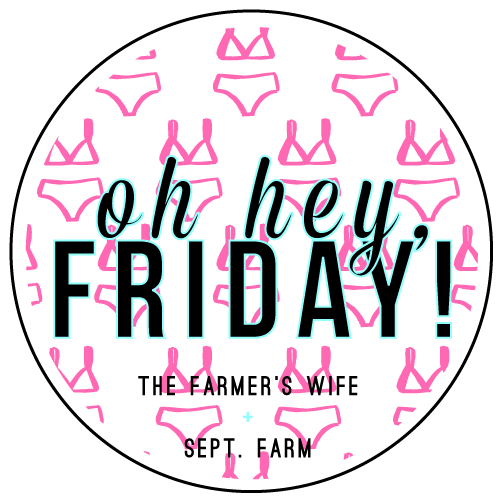 1 | Bennett
My baby is 7 months old today.
(I'll do a full post dedicated to him next week.)
He is getting super mobile, and I don't know what I am going to do when he decides to become independent.
You can look at my instagram
HERE
to check out how he moves around the house.
2 | Beckam
Unfortunately the boys have all come down with colds.
More sleep is always my remedy, but it turns out 3 and 5 year olds don't believe in naps at my house.
Thank goodness for tractors and swathers.
Beckam passed out within minutes of climbing in with Ryan the other day.
Gunner was happy to have a snuggle pal too.
3 | Brody
A fun day in the yard yesterday almost turned into a scary scene.
Brody was riding his four wheeler around, and going nice and slow.
He did however turn his head to get Bennett's attention, and while not watching where he was going he proceeded to drive it over the edge of my flower bed.
This caused the wheeler to tip a bit and he fell to the right side of it... not off of it though.
He grabbed to stay on, but grabbed the throttle.
He was headed towards a large tree.
He barely missed the tree and stopped right before our fence, with only a small burn on his leg from the exhaust pipe.
Basically he's super lucky and learned a very good lesson about obeying proper 4-wheeler driving rules.
He didn't want to drive it again, but I made him get back on the "horse" and go and park it still.
4 | New Hair
I am going in to get my hair cut and colored this next week!
It's literally been a year since I've had it cut.
And two since it's been colored.
#momprobs
Any suggestions on a cute cut!?
My hair is SUPER thin and I can never find a cut that I love.
5 | Homeschool
I have been gearing up for homeschool lately.
Because it's going to be starting before I know it.
Where are my homeschool mama's at?
I really want a separate space to school in, and we are discussing remodeling an outer building on our property into a school room.
I love a good project and have been thinking about this for years now.
Time to start adding to my Pinterest Board again.
I'd love to chat with fellow homeschoolers though, so if you do, email me
HERE
.
Any big plans this weekend?
After the last big holiday weekend, and the sicknesses, we are laying low.