In case you missed my post yesterday, we've got a new button for this fine piece of link-up.
It's just too cute.
So go ahead and grab that html, put it on your post, and then head back here to link up at the bottom!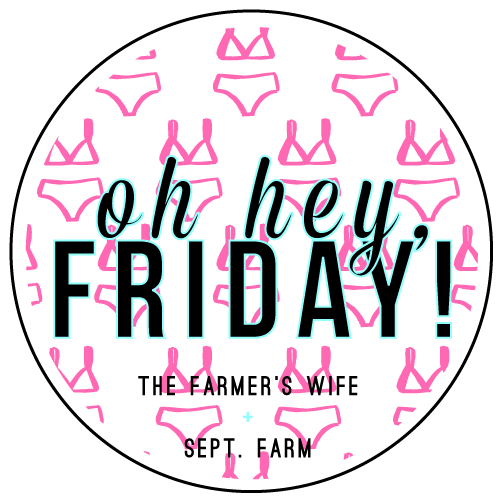 1 | snapchat
Let's just say I'm a bit of a novice.
So much so in fact that I have been snapping for over a month with the impression that most all of my followers didn't ever once look at anything I posted.
Turns out, my settings were all screwed up, and now my followers might look at my snaps and wish they hadn't.
Now, there is something very very sad about this snapchat setting faux pas... and that is the fact that none of you were able to see my farmer take a little swim break in his undies.
It was pure magic.
So, if you'd like to follow me in hopes to get a glimpse of that again, please do.
You can find me at farmerswifeamy.
2 | instagram
Let's continue this social media theme for a minute longer.
I'm big into Instagram.
I pretty much stopped posting any pictures on Facebook.
You can find me at farmerswifeamy if you don't already follow me.
Yes, same as snapchat... and pinterest... and periscope... and my domain.
I recently opened up a second instagram account.
This one specifically for my kids and their up and coming modeling careers. Ha.
They are brand reps for some awesome shops, and entering more searches often. (If you own a small shop and want my boys to model it for you email me here.)
I know that I generally only post pictures of them under my account also, but if you want to see even more of them, you can follow this new account.
It is called 3minifarmers.
Get ready for a cuteness overload.
Here is one of Bennett in a recent shoot:
3 | don't do this
I took all the kids to Bennett's doctors appointment yesterday.
And by all the kids, I mean my three.
Which, for the record, is a lot to take into a doctors office when you want them to sit still.
They didn't do terrible.
In fact, they did pretty good, considering that we had to wait foreverrrrr.
For their efforts, I took the big boys to get a treat at the best little donut shop I've ever been to.
I love it SO much because they have egg and peanut free options for Beckam!
4 | t-ball
The boys started t-ball this week, and I think this picture of Beckam pretty much sums up his take on the whole thing...
He is super excited to go, and loves to run around because he says his red shoes make him super fast.
Despite his lack of following the rules of the game, he is pretty fun to watch.
Brody has been playing for a couple of years now, so he's like an old pro.
When he is in the outfield, he runs after the ball EVERY single time it's hit.
He even ran into (and knocked over) his own teammate going for the ball.
Not sure he realizes they are supposed to be working together.
There aren't very many games, but I am loving each and every one of them.
5 | anniversary
Tomorrow my farmer and I celebrate our ninth wedding anniversary.
We may try to sneak away some time today for a little date.
Tomorrow he will be baling hay.
Or, I might just join him in the tractor like the good old days before children.
I should definitely do a post about our wedding, but for now I will leave you with just a couple of pictures.
One more flattering than the other.
As soon as we were pronounced husband and wife, my farmer lifted our arms up nearly giving all of our friends and family a view of more than they bargained for.
And it also looks like our pastor is tickling my armpit.
Ha. So glad this moment was captured. Even if it is a little blurry.
Love my farmer.
I hope that you all have a terrific weekend.
I'll most likely be following around my husband in hopes of spending some time with him. :)