It's Friday again.
And you know what that means...
Falling asleep at 7:30 pm.
Adulthood is so fun!
Also, it's link up time...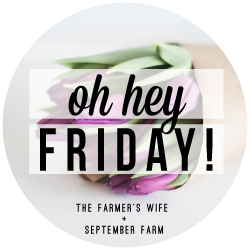 To join in on the fun all you have to do is:
1 |
Write up a post about five anythings.
2 |
Copy and paste the above html code to the bottom of your post.
3 |
Head back here and enter the link up below!
Boom. Simple.
And FYI this is our 95th
Oh hey, Friday!
Link up.
Thanks to all of you that stick with us.
We love you!!
It seems like summer came from nowhere.
And I'm not mad about it.
We are just so so busy all of the sudden.
Here is a little bit of what we've been up too...
1 | library
While visiting my friend in MN a few weeks back, we went to a local library that had an extravagant kids program.
The library was massive.
The program was awesome.
And I'm sure many of you have the privilege to be a part of something like that.
We may not have a huge or extravagant library here, but my kids still love our little small town get togethers.
A good friend of mine puts on a weekly read aloud and craft at the small little library and it's so fun.
This summer, they are doing a much larger scale version at the park too.
It includes lunch, lots of games, lots of books, lots of kids.
My boys had a blast doing it and insist of going again weekly.
2 | bbq's
I'm on a school board for our little church school and I helped organize the end of year BBQ for students and parents.
So many hot dogs.
So many games.
Brody had so much fun joining in on the games and activities.
Meanwhile Bennett hung out on me in the Ergo Baby, and Beckam stayed with my farmer in the tractor.
3 | play dates
Suns out, guns out. And time to pull the pools out.
We had Karli and her two gals over for some play time and pool fun this week.
I'm not entirely sure the gals had fun... from my boys peeing in front of them, to hitting them with sticks and splashing them with water... oi.
My boys are such gentlemen.
We are headed to the park to play with some friends today too.
Let's hope they are nice, and decide not to expose themselves in public.
4 | t-ball
Last night the boys had their first t-ball practice.
This is Beckam's first year, and Brody's third.
AND boy are they cute out there!
I'm not sure what they liked more... meeting their coach and playing, or the ice-cream treat afterwards.
5 | photoshoots
You've always got to make time for photoshoots.
Mostly because I could swear to you that Bennett was only a few weeks old.
But somehow he is nearly 6 months now.
Believe it or not, these big brothers ASKED to get into the picture with Bennett.
Perhaps this is a better representation...
Maybe one day I will be able to get all three of them nicely smiling at the camera.
SO... that is what's been going on around here.
And I got the boys signed up for swim lessons coming up too.
What is happening in your neck of the woods!?
Is it just as crazy all of the sudden for you?
Hope you all have a fabulous weekend.
xoxo