I had a friend visiting me this whole week and it was oh-so-fun.
My boys were not exactly on their best behavior, BUT regardless, we still had a great time.
Yesterday we escaped to the big city and left the babes at home with grandma.
I haven't gone shopping for/by myself in SO long.
I was pregnant.
Then I was fat.
And now I'm feeling pretty good about myself.
Which obviously meant it was time to go shopping.
Let me quickly share with you some purchases I made...
1 & 2 | for my workouts
I was a lulu lemon virgin as of yesterday morning.
I'd looked through the store, but never tried anything on.
I didn't really know what I was missing out on.
As soon as I tried on... I understood.
And I know it's probably against the rules, but my athletic director friend got me a discount. Holler!
3 | for my pretty days
I have a slight obsession with Anthropologie.
And I was excited to get back in the store and peruse all of their pretties.
I reigned myself in and left with
THIS
one cute little top.
4 | for my heels. and knees. and arms. and body.
I have the driest skin ever.
And so does my little Brody.
It's becoming a bit of a problem in our house.
I just recently became acquainted with Lush, and I think
THIS
dream cream is going to save my life.
5 | for my middle child
Beckam has never really had a proper baby book. #middlechildproblems
So when I was in the cutest paper store in the world and ran across
THIS
one, I knew I had to get it for my guy.
Now, to try and remember his first year of life.
Thank goodness for this blog.
Have you been shopping for yourself recently?!
What did you buy that you are loving!?
And then, link up!
Go ahead and grab that html, put it on your post, and then head back here to link up at the bottom!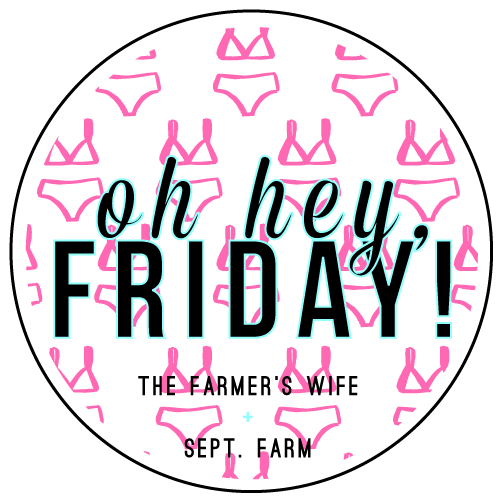 Have a great weekend friends!