I had a friend visiting all last week, and we've been doing swim lessons all this week...
Needless to say, we are WAY off any sort of normal schedule that I had once established.
And that certainly goes for my blogging as well.
I've come to terms with the fact that I am mostly just blogging for myself at this point.
A good journal, if you will.
So I'll just keep this up.
A post a week, maybe more for a fun surprise once in a while.
If you do happen to want to know what is going on in my life more often, you should probably follow me on Instagram or Snapchat... both @farmerswifeamy.
Moving on though.
It's no secret that I LOVE to take pictures.
And my children are generally always the subject.
SO, this week I am sharing my five favorite pictures that I took...
1 |
Ok... maybe there will be more than 5... because, Bennett.
I just can't stop taking pictures of this kid!
2 |
Beckam has been an absolute champ at swimming this week.
Except for pulling down his shorts and showing off his privates with everyone. Yikes.
Other than that though... he has been super brave and is turning into a little fish.
3 |
Serious hair envy.
Brody has the best hair ever.
And he certainly didn't get it from my genes.
He has SO much of it, and that color... no clue where it came from either.
I will claim those eyes and freckles though. Ha.
4 |
I love how much these brothers love each other.
Seeing them watch out for the other one make my heart happy.
Their daily fights on the other hand... I'd be fine with those stopping.
5 | While this is certainly not the best picture I've ever taken, I absolutely love it.
Ryan was out working, and they were busily getting prepared.
They both made him special cards.
Beckam helped make him a sandwich.
And Brody set out all sorts of snacks and drinks... all of his favorites.
Their love for him was overflowing.
Food, presents, ladder golf and lots of excitement.
Love my little family.
Ok now, link up time!
Go ahead and grab that html, put it on your post, and then head back here to link up at the bottom!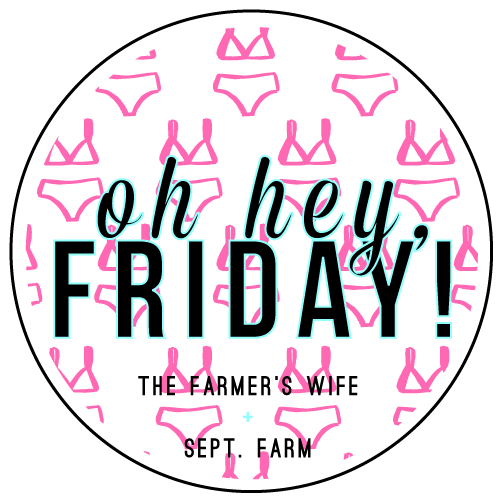 Have a great weekend friends!
I'll be jetting down to the Reno area to visit my grandma for the weekend and introduce her to Bennett.
What are you up to!?