Before I get into the things that irk me, let's take a look at my handiwork with the flowbee.
Yes, the haircutting hookup to a vacuum cleaner diddy.
It is a useful tool. Trust me.
And just so cute it hurts my heart!
Ok now, moving on.
I'd like to think that I am a pretty calm person.
I may lack a bit of patience on occasion, but overall I try to remain easy going.
At least I thought so.
There are a few things though lately that really piss me off...
1 | computer problems
Raise your hand if your computer has randomly shut down causing you to lose a word document.
Super crappy right?
Well, you know what is 236 times worse?
Having your computer randomly shut down, and then rebooting with NOTHING on it.
That's right, EVERY important business document gone.
Even the techies I took it to were stumped.
Loosing 5 years worth of documents, addresses, bills, etc sucks.
And having to rebuild invoice templates ticks me off.
2 | recalls
Was anyone a part of the recent food recall?
I was.
Lucky me.
I tossed two Costco sized bags of frozen vegetables yesterday..
Dumb.
They say that you can take them back to get refunded... but driving one hour to Costco with two frozen bags of vegetables, to stand in line with my three children and get reimbursed... no thank you.
I'll just toss that Listeria away.
I hate wasting my money because of someone else's problem though. Grr.
3 | instagram
Dear Instagram, why are you withholding my friends pictures from me!?
Even after I
like
every photo of someones.
I'm totally missing people's posts, and have to be a total stalker to see what's going on with them.
I find myself checking it less often now, which is probably better.
4 | postpartum balding
It's a wonder that I have any hair left really.
I mean, it falls out by the fist full...
my fists in the shower, and Bennett's fists every waking moment of his.
This kid loves me a whole lot though... and that doesn't piss me off.
5 | thunderstorms
I don't necessarily always hate thunderstorms, but when we have a crap-ton of hay cut and laying on the ground to dry so it can be baled... YES, I hate them.
We don't want your high winds, thunderstorm.
AND, you can keep your rain.
Please and thank you.
Please, share with me what ticked you off this week! :)
Now. Link up!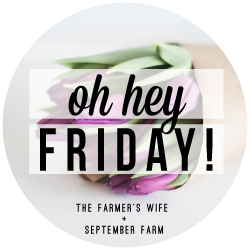 To join in on the fun all you have to do is:
1 |
Write up a post about five anythings.
2 |
Copy and paste the above html code to the bottom of your post.
3 |
Head back here and enter the link up below!
Cheers to the weekend.