A little bit of what's going on lately on the farm:
1 | beckam
Look who has a birthday on Sunday...
This precious guy will be THREE years old.
I'm kind of obsessed with him.
And I will dedicated an entire blog post to him next week.
There will be plenty more adorable pictures of him also.
2 | parents
My parents are in town!
They hadn't met precious Bennett Zane yet, and as a double whammy they get to stay and celebrate Beckam's birthday.
The boys sure are enjoying having their Zaza and Pappy here!
3 | party
It is party central around here!
The circus is coming to the farm.
I can't wait to share the party with you all.
But, until then, you can see what I made today... a ring of fire...
4 | peonies
Do you know what else I made?
These peonies.
I work so hard to water them and then I get to enjoy these flowers for like one week out of the year.
I'd say it's worth it.
They are so freaking beautiful.
5 | garden
In addition to peonies, we are also growing a crap load of fruit.
Did you catch my snapchat (farmerswifeamy) where I showed it all off?
I'm going to need to some tips on canning.
Or perhaps some good recipes for peaches and pears.
Until then, we are going to stuff our faces with fresh strawberries.
Ok, I'm off to pick up a cotton candy machine.
This should be fun.
Have a great weekend friends.
Link up!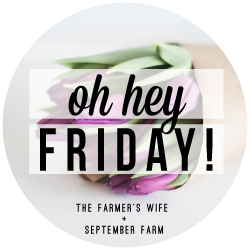 To join in on the fun all you have to do is:
1 |
Write up a post about five anythings.
2 |
Copy and paste the above html code to the bottom of your post.
3 |
Head back here and enter the link up below!