Time to hop right to it.
1 | footloose
I left Bennett with my mother-in-law for the first time yesterday... along with the two big boys.
It's the first time that I've been kid free in months.
I was a little bit sad, but also feeling footloose and fancy-free.
I mean... I cranked up the radio too loud, busted out some stellar car dancing and sang words that were inevitably not the lyrics.
It was fun.
I spent the day rushing around the big ol' city of Boise getting ready for Beckam's upcoming birthday.
My parent's come into town next week and I wanted to get as much done now as possible.
It is truly amazing how much you can do without children.
I'm pretty sure I've never walked faster than I did today.
2 | mother's day
Karli
was a lovely hostess and also
did a little recap of Mother's Day, so instead of me telling you the exact same thing... you should just go read her post.
It was a fabulous Mother's Day brunch... that didn't end until 8pm.
I got a picture with my boys that wasn't taken by myself, so that's a win.
We may have overstayed our welcome, but all of the banana bread + strawberry skewers I made got eaten, so that's a double win.
3 | garden
Speaking of Mother's Day, my guys planted some of my garden for me Sunday.
I can't wait until it's all growing!
Just like our fruit trees.
Look at how many peaches we are going to have!!
Does anyone know anything about fruit trees?
I think that we need to buy nets to put around them ASAP.
We don't need to feed the birds.
4 | boy mom
Whoever said "dressing boys is no fun" is full of crap.
I love it.
5 | tiu
I'm still rocking it with the TIU girls.
About to start week 4 and feeling great!
I think I might need to start taking it easy with the add on calories for "breast feeding" though.
I feel like I should totally have lost more pounds by now.
Inches are good too, but pounds need to leave also.
I like to think I am just gaining a lots of muscle. :)
Here are some things I whipped up recently with the TIU meal plan.
Quinoa with rosemary turkey burger and asparagus & honey lavender muffins...
Lots of strawberries, coconut and honey...
Can't believe I am nearly half way to my rocking bikini bod. Ha.
Now, it's your turn to share five things.
Link up!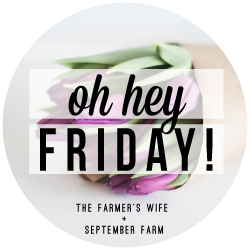 To join in on the fun all you have to do is:
1 |
Write up a post about five anythings.
2 |
Copy and paste the above html code to the bottom of your post.
3 |
Head back here and enter the link up below!
Cheers to the weekend.