I interrupted a really good HGTV marathon to write this blog post.
And I wish I could say that it is going to be worth it... but I really don't know.
I'm winging it, and not even sure what this post is going to be about yet.
Five things.
Here we go.
1 | circus party
Did you catch my
blog post
yesterday about Beckam's circus party?
If not... go and check it out.
It turned out pretty fabulous.
2 | date
Since my guy turned three, he had a little doctors check up.
I thought this would be the perfect excuse to take the day and spend it with him.
Pretty cute date, eh?
Although he did ignore me for a little while when we were shopping. Ha.
He wanted to spend some of his birthday moola and was pretty obsessed with Toys R Us.
3 | fail
I have been cheating a little bit on my TIU meal plan.
We have had multiple outings where food is provided, we had the birthday party, we have an excess of strawberries in the garden... so naturally I made a strawberry pretzel dessert and had to try, etc.
Needless to say, I've got to get back on the fitness train and stick to the meals more strictly.
I'm not waking up at 5:30 to workout for nothing.
Currently I'm working out for dessert.
4 | first food
Bennett started eating some real food a few days ago.
My farmer took it upon himself to go ahead and do it.
It was nice since he has never done the first bites with the other boys...
but he is also not the one sticking around waiting for the first real food smelly diapers to arrive. Eww.
Bennett LOVES applesauce.
And he HATES peas... which you can see for yourself on my snapchat (farmerswifeamy).
And he's okay with rice cereal and avocados.
Tomorrow we will try peanut butter mixed with egg whites.
Kidding. Kidding.
He will try those when we are in close proximity to a hospital... or maybe not at all considering Beckam's history.
5 | adjusting
My built in childcare left a couple of days ago.
My parents were here for a week, and it was just enough time to get used to them being here.
Beckam has been asking everyday... "Where are Zaza and Pappy?!"
I don't think he understood that when they were driving away, that they wouldn't be back right away.
Needless to say, we are adjusting back to our normal routine, and we don't necessarily like it.
Well well.
Looky there.
I did it.
Hammered out yet another blog post about nothing in particular at all.
And now, it is your turn! :)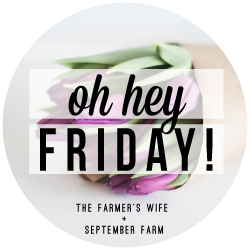 To join in on the fun all you have to do is:
1 |
Write up a post about five anythings.
2 |
Copy and paste the above html code to the bottom of your post.
3 |
Head back here and enter the link up below!
Have a fabulous weekend friends!