Somehow it is Friday again.
And that may have been the fastest week of my life.
Things are getting crazy up in here.
Farm season is definitely in full swing, and life seems to have gotten busier than it already was.
So don't mind me, I'll just be over here trying to play catch up for... ever.
1 | four months
My baby is four months old today.
I wrote a whole post about it yesterday, which you can find
HERE
.
BUT, I thought I would note again just how much he is loved.
Especially by these two...
2 | washington
We got home from WA Monday morning at about 1am.
My poor farmer drove the entire way, with very little interaction from the rest of us.
I had gotten sick, so spent a significant amount of time sleeping.
The boys napped and played on their iPads.
And Ryan, well, he listened to a LOT of podcasts.
Spending the weekend at my sister in laws was super fun though.
The boys especially had a good time with their cousins.
I surprisingly didn't get too many pictures... except for an impromptu phone photoshoot with these handsome boys. We were struggling.
It was great to get to celebrate the soon arrival of a new GIRL cousin though.
Can't wait to see how she will change the dynamics of his group of five boys. Ha.
3 | free time nowadays
My mother in law took my older two boys yesterday for a few hours... so, I spent the entire time they were gone doing yard work.
And feeding Bennett.
Super glorious life of a farm wife, am I right?
I still have three sections of lawn to mow.
And quite a few dandelions to kill.
And an entire garden to plant.
We will be outside for the foreseeable future.
4 | sunshine!
The boys came home and I was watering the lawn. Farm style of course.
Which is the best, especially when a 2 and 5 year old are concerned.
(don't mind the awesome quality... I took a screenshot of a video clip.)
5 | snapchat filters
Is anyone else having a fun time with these snapchat filters!?
I'm kind of obsessed.
SO, that my friends is what my life is like... snuggling babies, taking last minute road trips with the family, endless yard work and filtering pictures of my face.
Wild, eh?
Let's all get our link up on, shall we?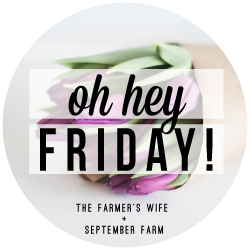 To join in on the fun all you have to do is:
1 |
Write up a post about five anythings.
2 |
Copy and paste the above html code to the bottom of your post.
3 |
Head back here and enter the link up below!
Don't forget to check out some of the other lovely ladies linking up. Let's make a few friends today!