Do you guys get tired of hearing how busy I am?
Because I do.
I
really
have been though.
I mean I'm sick of being squishy, so I've been working on that... which, for the record, takes a lot of time and effort.
We have like an acre of grass that needs mowed.
Grocery shopping.
Bennett's four month check-up.
Lots of playing with the big boys.
I am up to my ears in farm bookwork.
AND our farm computer just crashed.
As in... erased EVERYTHING.
I spent so much time trying to fix it and figure it out, but alas.
Gone.
This in turn made me download all of the pictures from my phone onto my computer.
Nearly 5,000 of them.
And then
that
made me a crazy basket of emotions watching the past few months in supersede across my screen... because it's beyond comprehendible how fast these boys of mine are growing up.
So, yea. It's been one of those weeks.
And I was reassured of this when I spilled half a bottle of cold water on my lap while driving yesterday.
Instead of more of the above from me though, I am going to grace you with five posts of mine from the past... that surely need read by you!
But first, let's all get our link up on, shall we?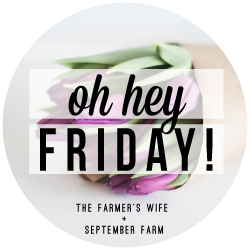 To join in on the fun all you have to do is:
1 |
Write up a post about five anythings.
2 |
Copy and paste the above html code to the bottom of your post.
3 |
Head back here and enter the link up below!
Moving on to some must reads...
1 | things i shouldn't tell you
You can find this post
HERE
.
Stories surrounding a year I spent overseas.
It involves a dildo.
Enough said.
2 | bachelor fame
Last year I felt famous on a few occasions while being on tv during the season of The Bachelor.
I wrote two behind the scenes post.
One for the premier
HERE
.
And one for the finale
HERE
.
3 | birth stories
I'm a sucker for birth stories!
I wish that I had started blogging a bit earlier so I could have written one for Brody.
I suppose I could still write one, but the details are more than hazy.
You can read Beckam's
HERE
.
And Bennett's
HERE
.
4 | man behind the blog
It may be time to do another one of these since this is nearly two years old.
But you can check out my farmer and read some of his wise remarks
HERE
.
5 | pregnancy announcement and gender reveal
I feel like I captured things much better this final time around.
And I am thrilled that I did.
These pictures will be treasured.
Pregnancy announcement
HERE
.
And gender reveal and the most shocked I have ever been
HERE
.
OK. Get reading.
And, don't forget to check out some of the other lovely ladies linking up below too. Let's make a few friends today!
Have a great weekend.