Dear Friday,
I. Love. You.
It's been a looooong week.
Here are a few things that have been going on...
1 | party time!
Last week I shared Beckam's party inspiration board with you, but today I have some
actual
goodies to share.
His invitations and other decor came from
minted
and I am IN LOVE!
Can't wait for this fun party to all come together!
2 | TIU
I got suckered into joining the 8 week Tone It Up bikini body program to get rid of my remaining preggo weight.
So far, so good.
I've spent my entire week waking up at 5 am (not my jam) to workout.
I am sticking to a pretty strict meal plan also.
If I don't have a hot(ter) bod in 8 weeks, I quit.
I will spare all of you my
before
pics.
Unless of course I end up with a six pack when this is over.
Then I will share the transformation.
Are you doing it?
If so, tell me!!
I'd love to suffer through this with others.
3 | skewers to the toilet rescue
I have found THE best tool to get unwanted items out of the toilet.
Unwanted meaning... a toy, or a significant amount of toilet paper.
SKEWERS!
No joke.
I had to do this TWICE this week.
Brody thought that my kitchen tongs would work nicely, so I quickly found some shish kabob skewers instead.
I mean, they get thrown away immediately, and you have a significant distance between you and the toilet water.
Tuck this little trick in your back pocket.
It may come in handy one day.
4 | my boys have gone crazy
Based on number 3, this might not come as a surprise to you.
They have been so wild, and one of them is generally being disobedient.
Send help.
I'll keep the baby though, because he is just always so darn sweet.
5 | giggles
I'm pretty certain that there is nothing in this world better than baby giggles.
He giggles, I giggle, we all giggle.
Brody has been LOVING being able to get Bennett to laugh recently.
And I think that is a pretty good send off into the weekend!
Now. Link up!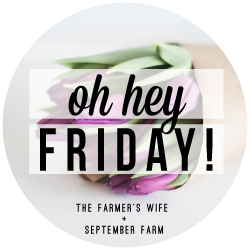 To join in on the fun all you have to do is:
1 |
Write up a post about five anythings.
2 |
Copy and paste the above html code to the bottom of your post.
3 |
Head back here and enter the link up below!
Cheers to the weekend.