It's 1:00 am and I just got home from the airport after a super fun week with one of my besties in Minnesota!
I mean, what's not fun about doing a styled shoot with our precious little guys for Saint Patrick's Day!?
SO, because life is back to reality now, I am headed to bed and totally bowing out of
Oh hey, Friday.
BUT you shouldn't!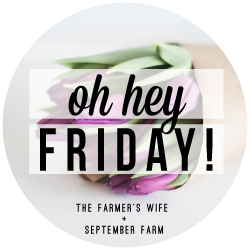 To join in on the fun all you have to do is:
1 |
Write up a post about five anythings.
2 |
Copy and paste the above html code to the bottom of your post.
3 |
Head back here and enter the link up below!
Super easy.
I'll be reading!!
Have a fabulous weekend friends.