First things first.
We have a new
oh hey, friday
button for you all!
Karli was at it again, and made this cute little spring number: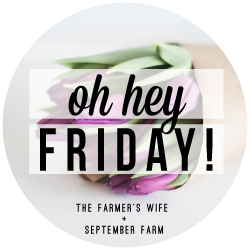 Now would probably be the best time for all of you linker upers to grab that html code.
Put it on your post of five things.
Then head down to the bottom of this post and link up!
And now onto all things important...
1 | minted
Did you see the $150 giveaway to minted on my blog...
HERE
?
If not, you should... cutest thank you cards I've ever made. Or seen.
And if you did see it, but didn't enter... it's super easy.
Like, it takes 10 seconds.
10 seconds of your time in exchange for $150?
Yes, please.
To get to the giveaway, just click
HERE
.
2 | speaking of "mint"...
That may be a stretch, buuuut farming season is in full swing here.
AND the whole family helped plant mint a few days ago.
See for yourself:
We've got the best happy helpers!
3 | speaking of helpers...
A quick little shout out to my precious baby Bennett for sleeping so much lately!
I could certainly get used to a full night of sleep.
Here's to hoping it continues.
4 | speaking of bennett...
Monday, I'm hopping on an airplane with my littlest babe and heading to MN to see this gal.
This amazing picture was taken exactly one year ago. Ha.
We were celebrating her baby to be at a super gorgeous baby shower.
And now, t's time to meet that babe out of womb.
AND, a little vacation is always a bonus!
5 | speaking of one year ago...
The day after that baby shower I just mentioned, we proceeded to head to the live Bachelor Finale the next day...
You may remember me posting about my behind the scenes experience
HERE
.
With this years finale upon us, I thought it was worthwhile to reminisce.
It's hard to believe that it has been a whole year, but as one of my besties from that pic pointed out... there are FOUR new babies to join the crowd since then.
Three of us birthed a baby since that picture, and one is half way through a pregnancy.
I suppose you could say lots can happen in a year. :)