Let's hope so. You may get one more from me, but no more. SO enjoy this big ol' belly now, because soon it will be gone-ish.
Shall we go over my preparedness for this child?
Excellent.
1 | hospital bag
I know some of you were stressing out with me about my bag not being packed. No worries. I got it packed this week. A solid 2+ weeks after my doctor told me to.
I've got my toiletries, a cute little black nursing nightgown, robe, slippers, leggings, and cardigan for me. I will also most certainly be taking advantage of the free mesh panties they provide! :)
I've got a change of clothes as well as sweats and toiletries for my farmer.
AND a couple of different outfits for the babe along with some Christmas themed diapers and a couple of cuddly blankets.
We've also got the big fancy camera along with phone chargers.
So, I think we are set.
2 | name
Nope. No name yet. We have a list of a few names that we kind of like, but we aren't sold on anything. AND we really have zero good ideas for a middle name. At this rate his name will be Baby Blade since that is what the boys are rooting for.
Here's to hoping that once we see that sweet face we will be inspired!
3 | progress
I had a doctors appointment yesterday.
I will spare you all of the nitty-gritty, but by this time next week, our little man should be with us!
Out of my belly.
Free to stretch elsewhere and not onto my bladder or hip bones.
4 | the big brothers
These boys are going to be the BEST big brothers. They are getting very excited for baby brother to be born. They are also getting very excited about going to Grandma and Papa's house during the delivery process. We packed their bag this week too, so they know the time is drawing near.
My farmer swung by a toy store yesterday and bought them each a gift "from" the babe. We did that for Brody when Beckam was born, and it was the best ever!
5 | nesting
I've been quite productive lately.
- Christmas present are purchased and wrapped for our immediate family.
- Christmas presents are purchased and wrapped and being sent out to family further away.
- I made 30 loaves of chocolate chip pumpkin bread to give to neighbors and farm landlords this week.
- I never stop cleaning the house with a houseful of males.
- All three carseats are installed in the vehicle.
- And an occasional nap.
I will probably be updating via instagram more than the blog in the near future, so if you're not already following me, you probably should hop on it. You can do so
HERE
.
NOW, time for the link up.
Karli is at it again, and fancied up a new holiday button.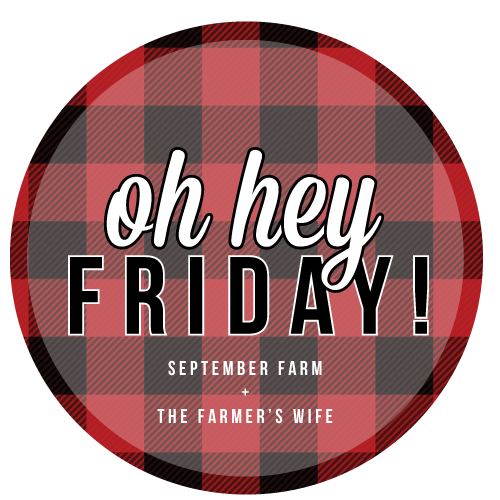 So SO cute, right!?
1 | Go ahead and write up a post about five things.
2 | Paste the html of the button above on your post.