I am not usually gung-ho about decorating for Christmas in early to mid November, but this year I was totally onboard.
Perhaps a bit of nesting kicking in?
Our tree is decorated.
Our Christmas presents are purchased and delivered - thank you Amazon!
Our house is festive, and I love it!
In all of my early planning I ran across some kids gifts that are so SO cute.
If we had a huge house, I am sure that I would have purchased these things… but alas, our house is small and I need things tidy.
And my boys need approximately zero new things.
If you have the space though, check out these awesome presents that I'm sure your kids don't need…
1 | teepee
Can one child have too many teepees? I'd like to say no - but like I said, we don't have the space. I have soft spot in my heart for teepee's though, and
THIS
one is so darling. And if I had a girl, which I obviously never will,
THIS
one would be a must.
2 | sports
My boys are active, and if I don't keep them busy, they will tear apart my house I imagine.
THIS
little golf set is super cute and with a little training might be able to be used indoors during the winter. :)
Or, you could go all out and just buy them
THIS
bounce house. We all know how I feel about bounce houses.
3 | books
While my aunt was here last week she brought the boys SO many awesome books. Reading books, activity books, coloring books, story telling books, etc. They love them and I do too! You can never go wrong getting your kids some great books. Since by big boys are covered for a while now, I thought maybe I should think about this tiny babe in my belly and get a head start and not neglecting his baby book with
THIS
first year book.
4 | make believe
Kids imaginations are something else. I never thought that my boys would be interested in play kitchens, but every single time we have a play date with friends, they always head straight for the kitchen. They love it! There are so many adorable ones out there to buy but
THIS
and
THIS
one are my favorites.
5 | art and creativity
Nothing like a gift that can be time consuming! If they can assemble it and create it themselves, and then play with it… win, win. There are so many great kits available. My favorites are make your own…
superhero
,
tutu
,
animal
, and
insects
. You could even make your own kit to save some dollars too!
What are your favorite gifts that you are eyeing for your kids this year?
Before you go, don't forget to link up.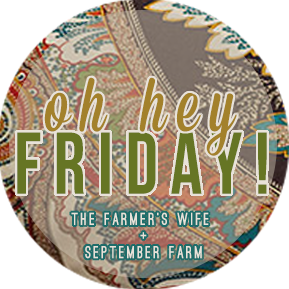 1 | Go ahead and write up a post about five things.
2 | Paste the html of the button above on your post.
3 | Link up at the bottom.

AND just an FYI… we will not be doing this fine link up next week. We will give everyone some time to recover from your holiday gluttony. :) See you back here in two weeks.

Have a fabulous weekend everyone!