Oh hey guys! It's Friday. Boom, just like that.
Did you see my new blog design? Or the
nursery reveal
? If not, check them out - because they are both oh so pretty.
This week really flew by, and was so so busy! And now to finish off the week, my Aunt is here visiting from California and we are having so much fun. So much so in fact that I am not writing a post today. Whomp whomp.
BUT you should totally still link up and meet some fabulous new bloggers. Don't be lame like me.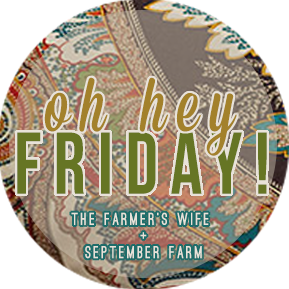 1 | Go ahead and write up a post about five things.
2 | Paste the html of the button above on your post.
3 | Link up at the bottom.
Have a great weekend everyone!!!