It's been a super busy week, but not an overly exciting one.
In fact I took exactly 3 pictures this week, all of which you get to see today...
There is nothing more classy than a super quick 32 week selfie in a public bathroom.
Is it weird that sometimes I forget I'm pregnant?
When I am out in public though I am reminded quite often.
This baby isn't shy.
I don't forget that I'm pregnant while I'm sleeping however.
You guys… my hips! They don't lie.
They mostly just hurt.
It's pretty pathetic really.
SO, I had a doctors appointment yesterday, and everything looks great.
The baby is only measuring 3 weeks ahead this time instead of 4-5.
Again, the doctor isn't at all concerned.
Probably just baby's placement.
I'm a tad vertically challenged, so I guess I don't have as much torso to work with as some.
Time will tell if he's really just a 12 pounder.
Last chance to hop on board the ad space train.
I've got a big giveaway going live on Monday, and it's not too late to join in.
Visit my advertise page
HERE
and enter code OCTOBER for 25% off a medium ad space.
Guess who's driver's license expired?
And guess who couldn't see the letters during the quickie vision test?
And I didn't have my glasses in my bag. Or car.
Because I NEVER wear them.
I didn't think my eyes were that bad.
Another trip to town is in order. Whomp, whomp.
We are digging sugar beets. Again.
And by "we" I don't at all mean "me".
My farmer has been waking up at 3 am so they can dig in the cool part of day/night since the beet temperatures can't get above 58 degrees.
Three more weeks of this, and then we will be on the home stretch.
Meanwhile, my little guys are sure loving to help out!
Speaking of my little guys… how cute are they in their warm fuzzy hats?
Love these funny little people!
I hope you all have a fabulous weekend.
We plan on enjoying yet another bounce house and plenty of cake pops!
Before you go, don't forget to link up.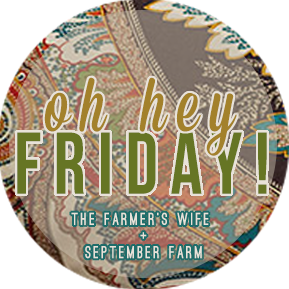 1 | Go ahead and write up a post about five things.
2 | Paste the html of the button above on your post.
3 | Link up at the bottom.
Peace out.