1. AD SALE
Hey-o! Let's start this Friday off with a bang!
How about 25% off all ad spaces?
Boom.
Yes. Don't miss out.
November is going to be a good month!
Check out all of my ad spots
here
and enter code FRIDAY for your discount.
2. FARMING
We are done digging sugar beets.
I know this is about as important to you as... oh...nothing.
But, let me assure you, this is a big deal around these parts.
While I am thrilled to get to see my farmer a little more often, I am a little sad that we are done taking random daily pics in the beet field.
And now the corn shall commence.
3. BECKAM
Well, the good news is that he is still alive.
This child.
He has no fear.
Zero.
Yesterday alone, I caught him... on top of the dining room table, trying to lay down in a full bath tub, jumping from 6 feet high into my arms, running along our dining room bench, and then jumping from the bench into a dining chair... he is a danger... to himself.
I mean this guy has a perma-dent in his forehead, and a scar on his cheek and he isn't even 18 months old yet.
God help me.
Luckily he's been practicing the art of medicine lately.
He will be just fine.
4. BRODY
I don't want to jinx us or anything, but I'm pretty sure this kid is going to be a farmer.
He understands the concepts of farming better than I do.
And he has been able to point out crops and every piece of equipment since he started talking.
He rides for hours with his daddy and his papa.
That little guy will traipse right through a field to get to a tractor.
I sure love the pictures where he still looks small to me.
5. BLUE STEEL
I know I mentioned this yesterday, but I am super excited to get some family photos taken of us this weekend.
The fabulous
Stephanie Mballo
is coming to our farm to snap us in our natural habitat.
In preparation I went to Boise yesterday and got my hair done.
I also proceeded to spend way too much money on clothing for the whole family so we could attempt to match, but not really match.
It's tricky.
I will most likely be returning all of it anyway.
Don't judge.
Now I just have to practice my blue steel look, and attempt to hide my double chin.
Wish me luck.
And now friends it's your turn!
Get your linky on...
If you are new to Oh hey, Friday, and would like to join in... it's simple!
1 | W
rite up a little post about five things. A
nythings
.
2 | Head back over here and enter your link at the bottom of this post.
3 | And pretty please don't forget to link back to our blogs and/or add the oh hey, friday! button (found just below) by copying the HTML into the HTML section of your post so that others can link up as well! That's it.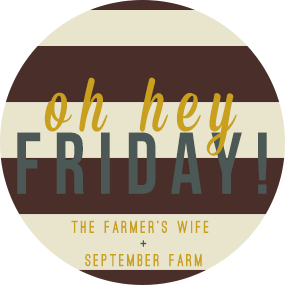 Have a great weekend friends!