I've got a few fun facts to share with you all today.
But first, we'd love for you to join in on our super easy link up.
If you are new to Oh hey, Friday, and would like to join in... it's simple!
1 | W
rite up a little post about five things. A
nythings
.
2 | Head back over here and enter your link at the bottom of this post.
3 | And pretty please don't forget to link back to our blogs and/or add the oh hey, friday! button (found just below) by copying the HTML into the HTML section of your post so that others can link up as well! That's it.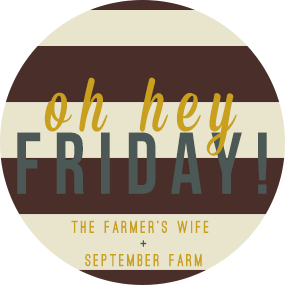 This is a great way to meet new awesome bloggers, and get your blog out there too.

Ok... my turn. Some fun facts:
1. | Snow
Brody has been talking for months about how excited he is going to be when it snows.
Like, so excited.
Well, yesterday it happened.
Guess how many minutes he played out in it?
Zero. Big ol' goose egg.
Our temps dropped a good 40 degrees in the last few days, and with our consta-wind here,
no one can be prepared for that.
This first day of snow in Idaho reminds me of why I don't actually like winter...
SO so many accidents on the roads, so much playing inside, the driest skin in the world, etc.
I've got to get better equipped for this season.
There is a bit more to endure.
Do you have any super fun winter activites you do with your kiddos?... indoors or outdoors?
Let me know. I need help.
2. | Play Bench
It's a good thing I had my farmer build us a storage bench for our dining room.
My grand ideas to turn our dining room into a more modern/chic space has been put on hold.
Instead, it is now the headquarters of the boys' play farm.
Quadruple the amount of tractors on the table and add in some squabbling and toy stealing.... and that is what at least half of my day looks like.
3. | Girls Trip
Yesterday I purchased some tickets to fly down to San Fran for a girls trip the weekend before Thanksgiving.
I am super excited to spend some quality time with these besties.
It is however the first time leaving both boys behind... so let's hope I can NOT have an anxiety attack like last time I left Beckam.
4. | Peanut Allergy
If you are uncertain of your child's sensitivity to peanuts, don't feed them raisins from trail mix.
The small amount of peanut traces left on them gave Beckam a little allergic reaction.
We were driving when this happened, so luckily I carry benadryl at all times...
This allergy business is balls.
5. | Corn Sandbox
My farmer has been busily combing corn.
Both boys have been loving it.
Brody loves the actual harvest aspect... he'll ride in that combine for hours.
Beckam loves to play in the corn... like the actual corn kernels.
My farmer tosses him into the full semi trailer and he literally squeals with giddiness.
The biggest corn sandbox ever.
And then...once we get home, I find corn everywhere. Everywhere!
Hope that you all have a wonderful weekend!