Every year I put together a video on iMovie of the years happenings.
It is an assortment of pictures, videos and music...
and it is awesome.
I just started working on this years, and have been looking through the thousands of pictures I have.
I found a few good ones that I thought I'd share with you all...
1 || Let's just start with this one:
Here's Beckam at the beginning of this year. A wee little 8 month old chub.
I mean... come on!
Those fat little feet and rolls galore make me think I might want another baby...
for just one hot second.
2 || And then... while we are on the subject of rapid growth in children, let's check out this kid:
Still a two year old at the time.
And still napping, hence the dazed look and hand print embedded into his cheek.
Also, let's note the Giant's jersey... he knew early on they were going to be winning the WS.
3 || This one, must have been staged:
Or this was the one and only time that they actually both enjoyed playing with each other.
Someone, please tell me that they will actually like sharing toys one day!?
4 || My farmer. He doesn't get enough pictures taken of him.
I did catch this one of him this summer at his parents house though:
Impressive, right?
Please note my precious niece in the bottom left hand corner.
I'm pretty sure she thinks she's about to die. Poor girl. It's her daddy that needs to be more concerned... he's about to get belly flopped in the head.
5 || You know who gets less pictures taken of them than my farmer? Me.
So much for my once upon a time dream to be a fashion blogger.
Now, back to that video I'm making...
I'm always up for good song suggestions to play along with the video.
Leave some in the comments if you have any!
But first, get your link on...
If you are new to Oh hey, Friday, and would like to join in... it's simple!
1 | W
rite up a little post about five things. A
nythings
.
2 | Head back over here and enter your link at the bottom of this post.
3 | And pretty please don't forget to link back to our blogs and/or add the oh hey, friday! button (found just below) by copying the HTML into the HTML section of your post so that others can link up as well! That's it.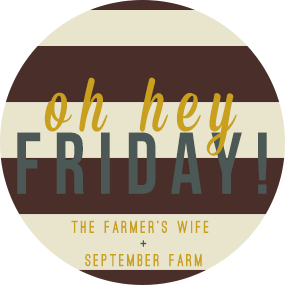 Have a great weekend friends!